We supply our pools in variety of accessories to match your expectations and improve your pool.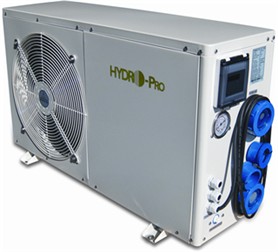 The Hydro-Pro heat pumps are practical to use, easy to install, made out of durable materials, environmental friendly and very efficient and economical. With the Hydro-Pro heat pumps you can save up to 80% on the costs for heating your pool. Whether you want to lengthen the swimming season or like to swim in a warm pool. The heat pump earns itself back in only a few years in savings on your heating costs.
High efficiency coefficient up to 6.2
Cabinet made of ABS
Full flow
Easy digital temperature control with LCD display
All functions are microprocessor controlled
Quiet running with low sound rotary compressor, low noise fan
R410A gas for an environmentally friendly operation
Automatic defrost
Titanium heat exchanger resistant to salt and chlorine
Including drain and flow switch
Winter cover included
Maximum pool volume depending on average outside temperature
Available in variety of heating capacity to match size of your pool
| | | |
| --- | --- | --- |
| 5 kW | max pool 20 m3 | flow 2.5 m3 |
| 7 kW | max pool 30 m3 | flow 2.5 m3 |
| 10 kW | max pool 40 m3 | flow 2.9 m3 |
| 13 kW | max pool 60 m3 | flow 3.5 m3 |
| 18 kW | max pool 85 m3 | flow 4.6 m3 |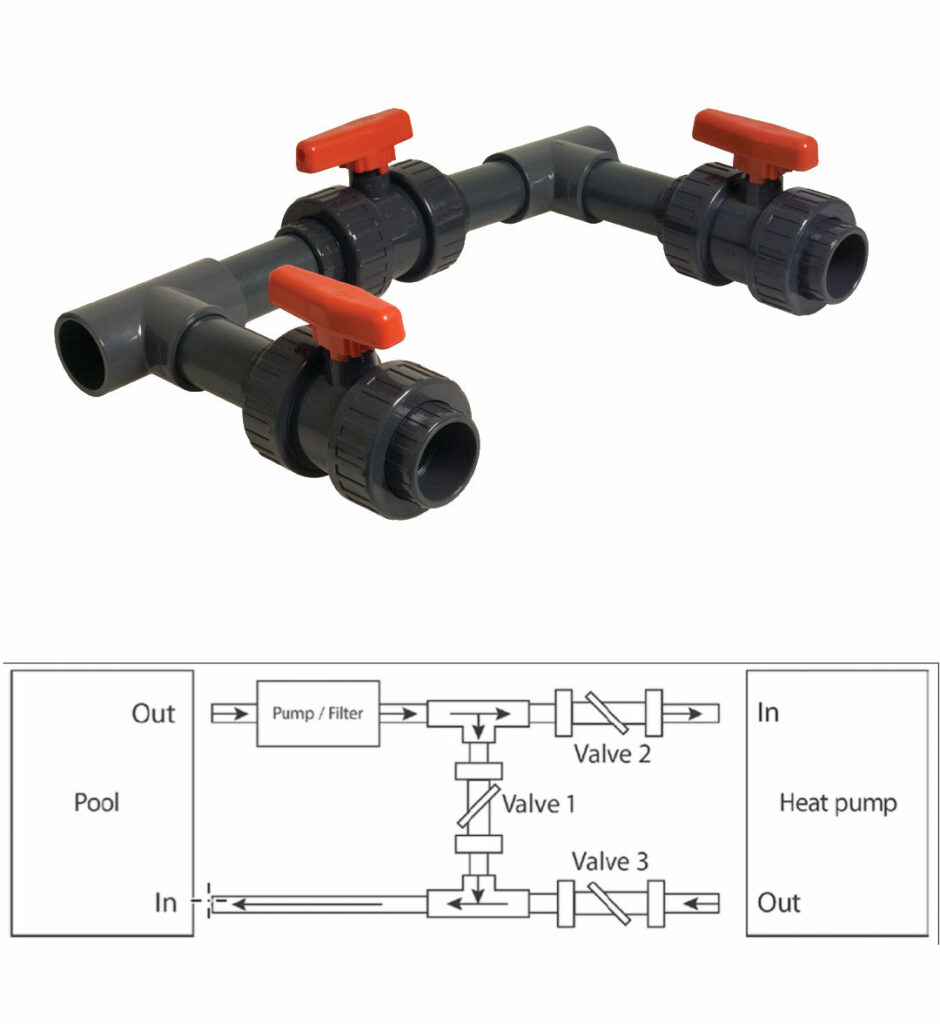 The Bypass Kit for swimming pool heat pumps allows you to control the flow of water to your heat pump. Winterise your heat pump without affecting the flow of water to your swimming pool and maintain your heat pump quickly and effectively.
A Bypass Kit is not in standard pool set, but it is advised to be used in combination with a Hydro-Pro heat pump or as preparation for heat pump installation in future. A kit contains at least the following items:
2x PVC T-piece 50mm 16bar
6x PVC tube 50mm 10cm 10bar
3x PVC ball valve 50mm
1x PVC glue
1x cleaner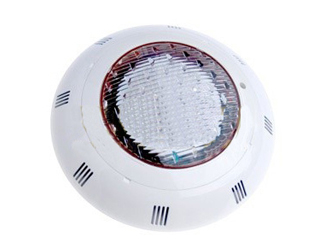 Halogen Lamp 100W
Lightweight, made of corrosion-resistant plastic. Easy to install.
Features:
Made of corrosion-resistant plastic. Reinforced with brass fused nuts.
Stainless screws
Type P300 LED Lamp
The LEDs have a service life of 100.000 hours as opposed to 1.000 hours for conventional lamps and each LED spotlight savves upwards of 90% in power consumption.
The LED light incorporates LEDs of maximum luminosity in red, blue and green. The combination of these basic colours results in an infinity of different colours, all very bright and vivid.
Features:
Material: ABS+UV stabilizer
Cable: 2.5m
Waterproof: IP68
Installation: Wall Mounted (Housing type)
A counterflow unit is an effective way to put an end to a swimming pool that doesn't stimulate you in any way. A counter current unit produces the effect of an aquatic treadmill, using a powerful and adjustable jet of water. It allows you to swim against the flow to improve fitness, eliminates turning at the end of the pool and can turn a small domestic pool into the equivalent of an endless lap pool.
Special Features: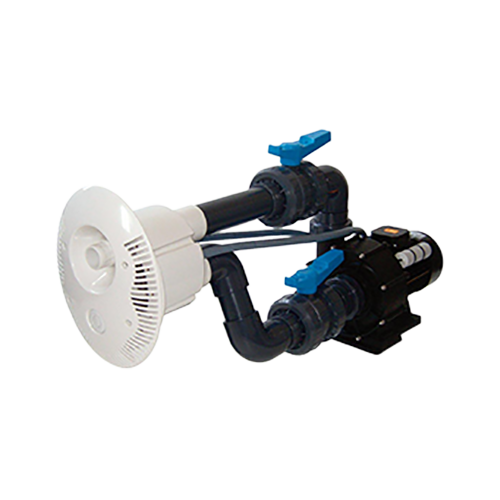 Pool tub into an Oasis of Relaxation and fitness
Virtually convert your pool length to infinity
Make you swim all day and never touch the wall
Make your stay fit
Pool can be used for productive Walk, Jog, Swim or Massage
Water level regulator is designed to keep control of correct water level in your pool. In case of high vaporization or water splashing, this accessory automatically adds water through an inlet valve.
As a natural, effective sanitization alternative to harsh chemical chlorine, salt chlorination is an increasingly popular choice for pool and spa owners around the world. Hayward®'s patented salt-chlorination systems convert dissolved salt into just the right amount of chlorine, automatically creating perfectly sanitized, luxuriously soft water. Salt chlorination satisfies 100% of your pool and spa's chlorination needs while providing three major advantages over traditional chlorination methods: comfort, convenience and cost savings.
Enjoy soft, silky water.
By providing automatic, consistent sanitization, salt chlorination avoids the highs and lows of manual chlorine addition, delivering water that won't irritate eyes, dry skin or cause fabrics to fade. The gentle sanitization process eliminates harsh chlorine odors while creating velvety smooth water that feels unbelievably luxurious.
Work less, play more.
Salt-chlorination systems automatically convert dissolved salt into a virtually endless supply of chlorine, so you can spend less time maintaining your pool and more time enjoying it. No more mixing and measuring harsh, factory produced liquid or tablet chlorine chemicals— just jump in and relax with total peace of mind.
Savor the cost savings.
As a steady supply of 100% pure, natural chlorine continuously circulates throughout your pool, you can expect to cut your chlorine costs over the years by at least 50%. By keeping chlorine levels perfectly balanced, salt chlorination can also extend the life of your pool and spa, saving you expensive replacement costs down the road.