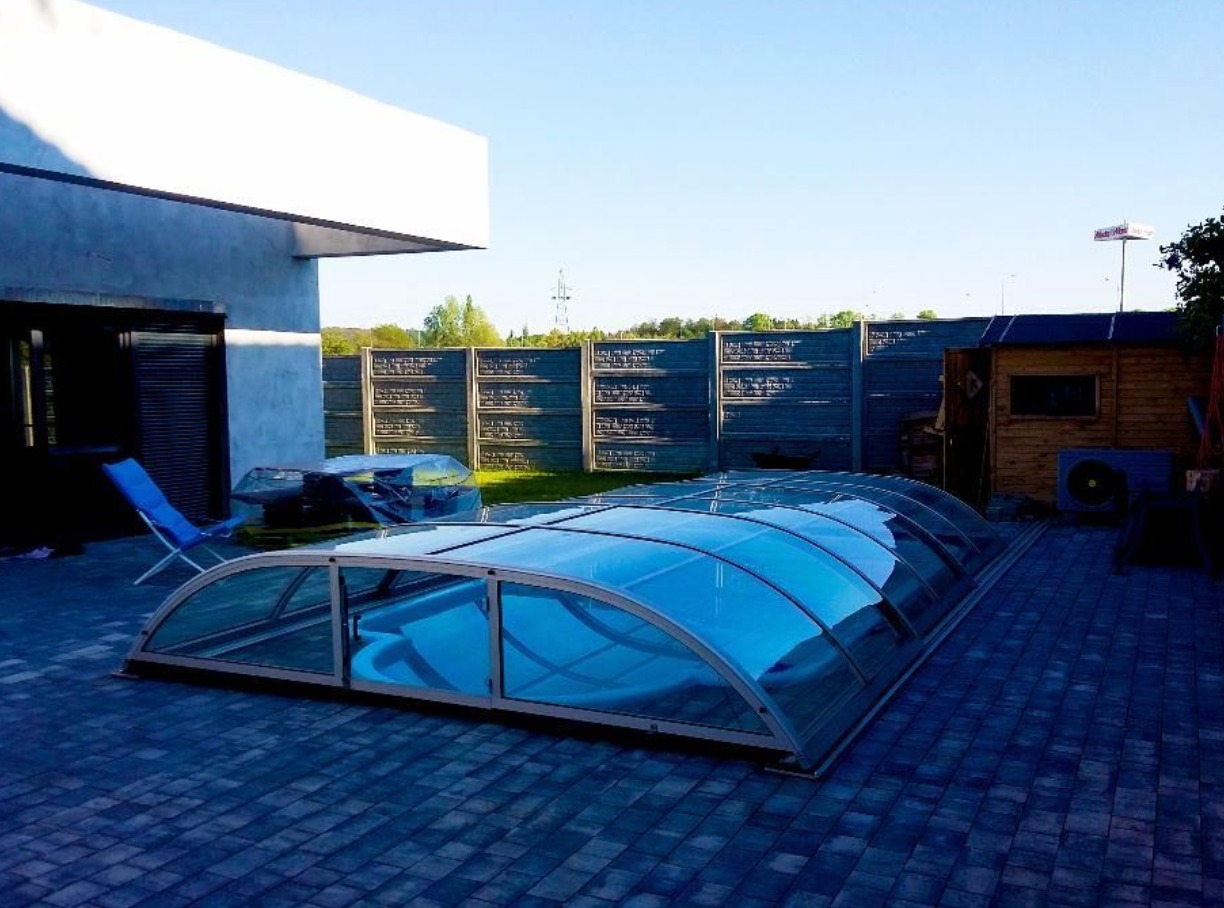 Best on the market pool cover at reasonable price

Add extra protection to your pool by roofing and don't worry anymore about the wather or water condition.
– Driving system – polyamide rollers mounted on aluminum tracks
– Wind protection 3mm polycarbonate blocks: Lockable rails in the tracks prevent the movement of the roof.
– Entrance – sliding on side (left or right), pivot door (front), lockable
(protection against accidental falling children into the pool).

IMPORTANT!
It's very easy to assemble consisting of mounting the tracks
and ready sliding segments.It is also possible to install roofing by our company
for an additional fee.
Additional tracks 3m in Prestige package – allowing to leave the pool outside – FREE!
Advantages of swimming pool roofing:
– allows you to prolong the bathing season
– allows you to use the pool even in cloudy and rainy days
– increases the water temperature by 5-8 degrees
– prevents rapid cooling of water
– protects pool water from contamination
– reduces the amount of chemicals used
– allows for longer maintenance of the desired pH of water
Prestige Style
Sizes:
| | | | | | |
| --- | --- | --- | --- | --- | --- |
| MODEL | OUTSIDE DIMENSION | HEIGHT | BLOCKS | RAILS WIDTH | DOORS |
| Prestige 6 | 6.58m x 4.15m | 0.75m | 3 | 213mm | L, R side |
| Prestige 7 | 7.58m x 4.53m | 0.80m | 4 | 282mm | L, R side |
| Prestige 8 | 8.68m x 4.78m | 0.90m | 4 | 282mm | L,R side |
| Prestige 9 | 9.68m x 4.78m | 0.90m | 4 | 282mm | L, R side |
| Prestige 10 | 10.68m x 5.17m | 0.90m | 5 | 352mm | L, R side |
Elegance Style
Sizes:
| | | | | | |
| --- | --- | --- | --- | --- | --- |
| MODEL | OUTSIDE DIMENSION | HEIGHT | BLOCKS | RAILS WIDTH | DOORS |
| Elegance A | 6.30m x 3.72m | 0.75m | 3 | 213mm | Front |
| Elegance B | 8.38m x 4.85m | 0.80m | 4 | 282mm | Front |
| Elegance C | 10.46m x 5.70m | 0.90m | 5 | 352mm | Front |