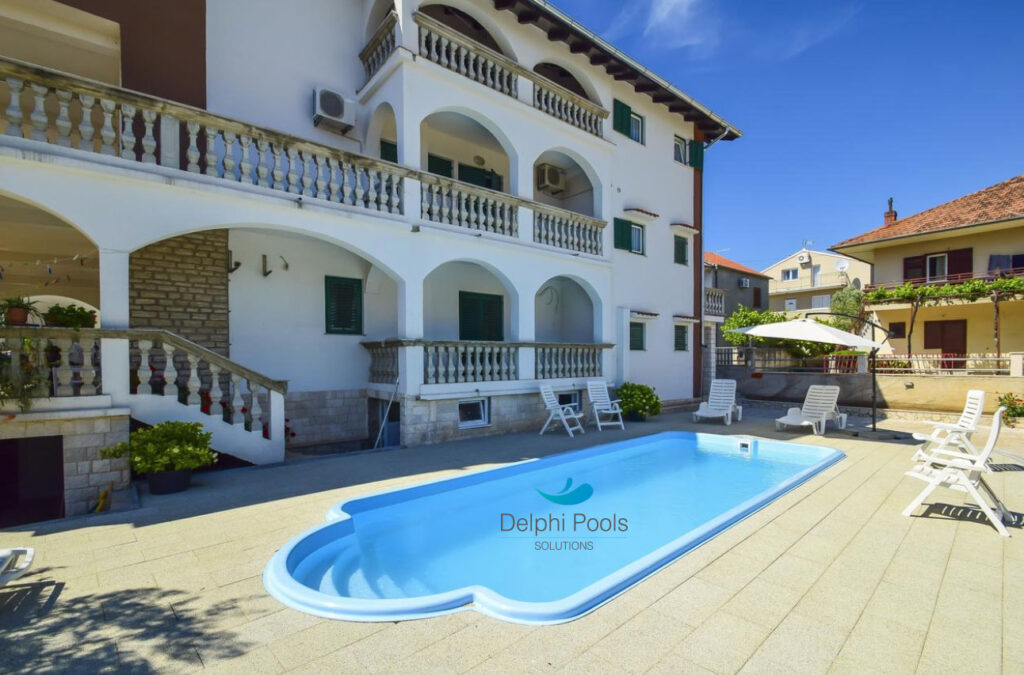 Pools from polyester resin reinforced with fiberglass is one of the cheapest and fastest in terms of technology, the option of building a swimming pool recessed into the ground.
Just order a ready-made, one-piece, extremely robust pool shell and in a few simple procedures you can enjoy bathing in your own pool.
Our pools are properly designed, non-slip steps for easy entrance to the pool, which can also serve as a functional seat.
The outer side of the pool is painted with a layer of Top-Coat, protecting against water penetration and moisture in the laminate.
Pools is reinforced around with special sections that increase the stability and durability of the entire structure.
In contrast to swimming pools, and inflatable struts trough made from a laminate characterized by great strength.
An additional advantage of pools of laminate is the ease of keeping them clean..
Our products are:
weather resistance
resistance to mechanical damage
resistance to dirt and most chemicals
Layers

Sizes
Style
2.55m
2.75m
2.80m
3.00m
3.10m
3.30m
3.70m
Roman Style Imperial
4.75m
1.00m
x
x
x
x
x
x
Roman Style Imperial
5.00m
x
x
x
1.50m
x
x
x
Roman Style Neo
5.20m
1.10m
x
x
1.50m
x
x
x
Roman Style Imperial
Rectangular Aura
6.00m
x
x
x
1.40m
1.55m
x
x
x
Roman Style Imperial
6.05m
x
1.22m
x
x
x
x
x
Roman Style Neo
Rectangular Elegance Alpha
6.20m
x
x
x
1.40m
1.50m
x
x
x
Roman Style Imperial
6.50m
x
x
x
1.40m
x
x
x
Rectangular Aura

7.00m
x
x
x
1.55m
x
x
x
Roman Style Imperial
7.00m
x
x
x
x
1.55m
x
x
Roman Style Imperial
7.20m
x
x
1.45m
x
x
x
x
Roman Style Neo
7.20m
x
x
x
x
1.55m
x
x
Rectangular Elegance Comfort
7.50m
x
x
x
x
x
x
1.55m
Roman Style Imperial
7.70m
x
x
x
x
1.55m
x
x
Roman Style Imperial
8.20m
x
x
x
x
1.55m
x
x
Roman Style Imperial
Rectangular Elegance Comfort
8.50m
x
x
x
x
x
x
1.55m
1.55m
Roman Style Imperial
9.40m
x
x
x
x
x
1.55m
x
Roman Style Imperial
9.50
x
x
x
x
x
x
1.55m
Roman Style Imperial
10.50
x
x
x
x
x
x
1.55m